Unpacking ILGM Seed Bank: Legit Marijuana Seed Bank Review
ILGM Seed Bank Review
Reputation – 9/10
Seeds Selection – 9/10
Service – 9.5/10
Website – 10/10
Payment Options – 10/10
Shipping – 9/10
*Shipping to the United States Only*
I Love Growing Marijuana (ILGM Seed Bank) has been a trusted online marijuana seed bank since 2012!
ILoveGrowingMarijuana – ILGM Seed Bank is one of our favorite seed banks for many reasons. ILGM offers excellent customer service, abundant seeds, convenient sales and discounts, and a free online collection of garden products for new and experienced growers. Seed quality is top-notch (and germination is guaranteed!) Here's our full ILGM seed bank review, including what you need to know before ordering from this popular online seed bank.
ILGM Coupon Code – ilovegrowingmarijuana.com Coupon Codes, Seed Deals, and Discounts
ILGM Seed Bank Reputation & History
Robert Bergman, the owner, and founder of I Love Growing Marijuana, had a passion for the forest, leading to many years of research and learning. He started small, with just five marijuana plants in his home, but eventually grew to become a specialist breeder. His blog, ilovegrowingmarijuana.com, was established in 2012 as a source of information and help for cannabis growers. Within a short time, ILGM had gained a reputation as a reliable source of knowledge and expertise and soon began selling its own strains of seeds. In addition to offering helpful advice and providing a wide selection of top-quality seeds, I Love Growing Marijuana also supplies autoflower seeds, feminized seeds, and regular seeds. They also provide a germination guarantee, so growers can be sure that the seeds they buy from ILGM will be viable. Finally, ILGM seed bank provides comprehensive customer service and support, with professional advice and support staff available seven days a week. With a wealth of knowledge and a passion for the forest, Robert Bergman has created an invaluable resource for cannabis growers worldwide.
Best Alternatives to ILGM Seed Bank
Greenpoint Seeds [Read Review]: *Best Alternative*
Unique and reliable genetics. Multiple Cannabis Cups. Shipping Discreetly to the USA. Crypto and Credit Cards are accepted.
Seedsman [Read Review]: *Excellent Reputation*
The fastest-growing and most established online seed bank. Shipping Discreetly Worldwide. Bitcoin and Credit Cards are accepted.
ILGM's success can be attributed in part to the fact that they don't stop at just selling seeds. They provide customers with growing tips, and every purchase includes a copy of the Deep Growth Guide. Furthermore, their website offers more information. This seed bank is highly reputable because they offer a shipping and germination guarantee, meaning customers receive high-quality and profitable marijuana. If you need more information about ILGM, our full review can help clarify.
ILGM Seed Bank: An impressive selection and guaranteed quality
The ILGM seed bank is proud to be the go-to source for premium marijuana seeds that consistently yield excellent buds. They are confident in their top-tier genetics and put their money where their mouth is with a germination guarantee. If you follow our growing directions and your seeds don't sprout, we'll replace them and provide troubleshooting support to ensure a successful grow on your next try. ILGM Seeds has a team of expert marijuana growers and breeders available to answer any questions about the growing process. They can also provide tips and advice to help you get the most out of your marijuana seeds. Everyone should have access to premium-quality marijuana seeds and the support they need to grow successfully.
ILGM's seed selection covers an impressive array of strains, and you can easily shop their site based on the type of weed you want to grow. Search categories include indicas, sativas, medicinal weed, ultra-high THC content, and high CBD/low THC ratios. You can also shop based on your growing needs and priorities, such as yield, plant size, climate, and whether you want to grow indoors or outdoors. ILGM seeds include their own high-quality breeds, such as their famous Bergman's Gold Leaf strain, which is available in feminized and autoflowering seeds.
ILGM Seed Bank Feminized Cannabis Seeds
ILGM stocks an extensive selection of feminized cannabis seed varieties. Their most popular feminized strains are Bergman's Gold Leaf, Blue Dream, Girl Scout Cookies Extreme, Gorilla Glue by ILGM, and White Widow. Experienced growers can opt for regular seeds (where male and female plants may exist) and manually remove the male plants. However, this is only recommended for those with an advanced understanding of the growing process.
ILGM Autoflower Cannabis Seeds
Autoflowering seeds are the perfect choice for beginner growers who want an easy and low-maintenance cannabis growing experience. With these seeds, you can grow year-round in as little as 10 weeks without worrying about light cycle management. The plants grown from autoflowering seeds are usually smaller but much simpler to cultivate. If you're starting out with growing weed, our friendly staff at ILGM are happy to help you select the best strain for your individual growing style and capabilities. We offer various autoflowering strains from the world's most popular varieties, such as White Widow, Blueberry, Gold Leaf, Gorilla Glue, and Girl Scout Cookies. We also provide two autoflower mix packs if you want to try a few different strains and find your favorite. Plus, all of our seeds come with a germination guarantee, so you can be sure you're getting the best quality seeds every time. We're here to help you grow successfully and make the most out of your cannabis cultivation journey.
Mix Packs
ILGM's cannabis seed mix packs offer the most for your money, bringing the price per seed down as low as over 50% off the original price! You can take another 10% off this discounted price with Bitcoin. Each mix pack contains seeds for three different strains, and there are so many mix packs to choose from!
If you are new to growing cannabis, you may want to go with the "Just Starting Out" pack, which includes three easy-to-grow crowd-pleasing strains, or one of ILGM's autoflower mix packs. Other mix pack options include the "Cash Crop" pack, featuring strains known to be high-yielding, an outdoor growing pack, and packs with strains in the same "family," such as Kush, OG, and Widows. Mix packs are also available for weed with a particular flavor profile, such as berry, sweet, or spicy. ILGM also sells fun-themed mix packs such as the "Blue" pack, containing the Blue Dream, Blue Cheese, and Blue Haze strains, and the "Bling Bling" pack, which includes the Gold Leaf, Super Silver Haze, and Crystal strains.
Discounts, Sales, and Loyalty Points
One of ILGMs most popular rotating promotions is their "buy 10 get 10 free" sales. A 50% savings on such high-quality seeds is not something to pass up! Plus, you can get a 10% discount on the sale price using Bitcoin. ILGM also shows its appreciation for its customers by offering a loyalty (VIP) program where each purchase earns points that add up to future discounts and even free bonus gifts.
ILGM seed bank loyalty points benefits:
Once you join, you're already harvesting points.
Get exclusive rewards with every purchase.
Save up for HUGE bonuses.
Get access to exclusive strains.
Earn extra VIP points by following these steps:
Like ILGM's Facebook page
Follow ILGM's Instagram page
Refer a friend – Earn VIP points when your friends buy seeds from ILGM.
ILGM Seed Bank Shipping Info
At ILoveGrowingMarijuana, offers customers delivery to all 50 U.S. states. ILGM seed bank has two shipping hubs in Amsterdam, Netherlands, and California, USA, with stealth shipping always provided. That way, your order will arrive in discreet packaging, and your bank statement will not reflect any sign that you have ordered from a cannabis seed company. We strive to ensure your order is delivered quickly and safely. Additionally, our customer service team is always available to answer any questions you may have about your order. We also offer step-by-step support for new growers, so you can be sure your plants will be cared for. Lastly, our online store is filled with premium cannabis seeds and gardening supplies, ensuring you get the best products for the job. With ILoveGrowingMarijuana, you can trust that you will receive quality service and products.
ILoveGrowingMarijuana offers a delivery guarantee, so you can rest easy and always receive exactly what you paid for. If your seeds never arrive, ILGM seed bank will resend your order at no additional charge. If your seeds haven't arrived after 25 business days, you must contact ILGM and let them know, and your order will be resent. Be sure to bring up any delivery issues as quickly as possible, however, because 90 days after your order is shipped, ILGM will assume you've received it if they don't hear otherwise. Please note that ILGM won't resend an order if the delivery delay is due to mistyped info on the label, but they'll still toss you a discount code for next time.

Yet another great reason to order from ILGM is that they offer free shipping on all United States and Australian orders over $150. For smaller orders sent to Australia, the shipping charge is $25. The free shipping option does not include tracking numbers, but if that is important to you, you can add that option for a small fee and then easily track your seeds online from ILGM's website.
Customer service is a top priority.
The I Love Growing Marijuana team strives to provide exceptional customer service and support similar to their top-notch seeds. Their "Support Angels" are always available to answer questions, ranging from which strains to buy to handling shipping issues. The quickest way to reach the company is by using the contact form on their website. You can expect a response within 24 hours during the workweek. Additionally, if you have any growing inquiries, the ILGM forum is active and full of expert growers who can help. The following section will discuss further details about the online resources available for growers.
Germination Guarantee and Returns
ILGM is so confident in the quality of its seeds that they offer a germination guarantee. If you've followed their six recommended growing steps and nothing's sprouting, ILGM will replace your seeds at no additional cost. The six steps are relatively simple: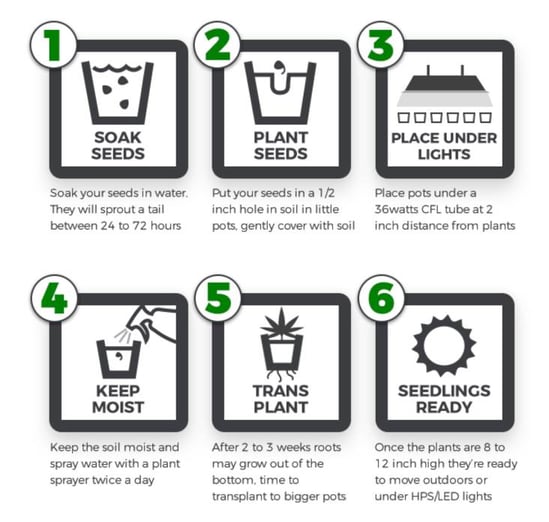 If you've planted your seeds according to these directions but are seeing no sprouts, you can jump back to step one and try again. If your seeds still fail to germinate, contact ILGM's support team to discuss the replacement option. If your ILGM seeds need to be replaced, you may be asked to ship the originals back for further quality assurance testing.
If you run into problems at any point in the growing process, ILGM's troubleshooting team is always on hand to help you figure out why. If your cannabis plants do germinate but don't survive, there are too many potential factors for ILGM to resend the seeds, but they will do all they can to help you figure out what went wrong, and they'll still give you a discount on your next order. If your seeds arrive damaged (something else which rarely happens), you must send a picture of the seeds in their original packaging to ILGM's support team, who will send you a fresh batch.
Best Alternatives to ILGM Seeds
Greenpoint Seeds [Read Review]: *Best Alternative*
Unique and reliable genetics. Multiple Cannabis Cups. Shipping Discreetly to the USA. Crypto and Credit Cards are accepted.
Seedsman [Read Review]: *Excellent Reputation*
The fastest-growing and most established online seed bank. Shipping Discreetly Worldwide. Bitcoin and Credit Cards are accepted.
ILGM Seed Bank Accepted Payment Methods
ILGM seeds tend to run between $12 – $20 at full price; even at full price, they are worth the money. But if you're shopping on a budget, ILGM runs regular sales, offering bundled deals that can help you get these great seeds for even less.
Bitcoin
Electronic Payment/Bank Transfer
Cash or Check
Credit Card
ILGM Seed Bank Growing Resources
At ILoveGrowingMarijuana, we offer more than just cannabis seeds – we provide new growers with incredible value. Our website, ilovemarijuana.com, is a great resource for anyone looking to get into growing marijuana. Our blog is full of helpful information about different strains, and our "Marijuana Grow Bible" is available for free to download directly from our site. Plus, when you order with us, you'll automatically receive a copy of the guide. With ILGM, you get more than seeds – you get the knowledge and resources needed to start.

ILGM also has a free support forum where customers can get their specific questions answered by expert growers. The forum is very active, and it's ILGM's best resource for your growing-related questions. Ilovegrowingmarijuana.com also features local grow guides for the United States, Canada, and Australia, allowing you to drill down to your specific state or province. You can also read through detailed grow journals and explore ILGM's cannabis strain database to help you figure out which one to grow next.
When you create an ILGM seed bank account, you'll also be able to create a wishlist to keep track of strains to try in the future. You'll also be able to track your VIP points to see when you're due for your following discount. And, if you opted for tracked shipping, you can check on how close your latest order is to your doorstep. All in all, ilovegrowingmarijuana.com has over 500 articles, including 200 grow guides – in addition to the support forum. You really can get any imaginable growing question answered here!
Final Word: ILGM Seed Bank Review 2023
ILoveGrowingMarijuana provides top-quality cannabis seeds, invaluable growing advice, and exceptional customer assistance. They also take great pride in providing secure, discreet delivery and guaranteed germination. Not only that, but ILGM is incredibly user-friendly for beginners and experienced growers alike, with a wide range of seeds available and free shipping on sale items. You can grow amazing crops without draining your wallet! To top it off, our prices are also very generous. Get the best cannabis growing experience with ILoveGrowingMarijuana today!