Best LED Grow Lights of 2023 – Indoor Grow Lights Review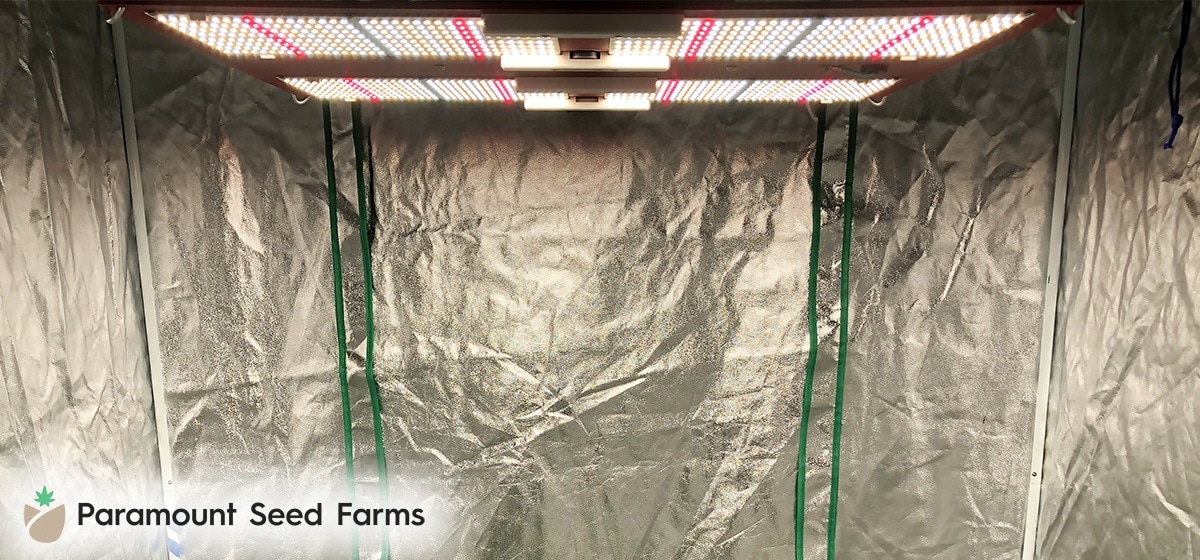 Need help choosing the best LED grow lights for your indoor grow? Use this complete guide to help narrow down your LED grow light options. More importantly, this list only highlights the LED grow light specifications that really matter when determining performance, fixture quality, and yields. Enjoy!
Learn about LED grow lights for cannabis before you make the decision to invest in your indoor grow.
LEDs are regarded as some of the best indoor grow lights on the market. But there are so many out there it can be tough to weed out the cheap, unreliable brands and models from the quality ones. And with the high price of some grow lights, it's crucial that you do your research before purchasing.
Paramount Seed Farms has taken on the task of vetting some excellent LED grow lights. Of course with the goal to save you some time and energy in finding the best led grow light for your grow. We have experience with over 90 different LED grow lights whether it be testing ourselves, visiting grows, or word-of-mouth from other trusted growers here in Michigan, you will find a condensed list based on a fed different criteria below:
Best Full Spectrum LED Grow Lights
Full-spectrum LED grow lights provide a proper light spectrum to get your plants from seed to harvest without the need to change bulbs or change lighting fixtures. The best LED grow lights available on the market will be full spectrum. Below are Paramount Seed Farms pics for the best full spectrum led grow lights based on overall efficacy.
---
Best Commercial LED Grow Lights
Maximize your facility's efficiency and start running one of the best commercial LED grow lights listed below. ETL and UL certified, these LEDs are ready to take your grow to the next level. Compared to other cannabis grow lights and high end led grow lights on the market, professional growers and commercial facilities will find these professional led grow lights intriguing.
Make the switch from HPS to a ChilLED and increase your yields & profits 30 – 70+% without the extra heat, power costs or cooling requirements. ChilLED grow lights offer market-leading efficiency combined with adjustable Yield Max spectrum tuning for unmatched performance. Highest build & component quality – never sacrificed for profits. ChilLED grow lights are built to last. Retrofit into your environment with ease. Hands down, ChilLED lights are one of the most versatile LED grow light brands on the market.
Certifications
ETL, UL 8800
The Model-H is designed specifically for high PPFD cultivation practices in vertical farming. Full Spectrum design covers each critical phase of growth from vegetative to flowering. The spectral tuning capability allows growers to experiment with spectrum recipes. Hailed as the most efficient and highest yielding LED grow light on the market.
Certifications
ETL, UL 8800
The new HLG Scorpion Diablo Commercial Indoor Horticulture LED grow light is designed to replace 1000 watt HID. Each HLG Scorpion uses 6 x QB 648 Quantum Boards for an even light spread at just 12″ from the canopy. The QB 648 was exclusively designed for HLG by Samsung using their latest LM301H and Deep Red LED 660nm. This unit is dimmable, with wattage output from 130 to 650 watts. Best LED light for 5×5 grow tent.
The Gavita Pro 1700e LED grow light can be used in commercial grows (horizontal and vertical), greenhouses, home grows (rooms and tents), or in climate rooms. Coming in at an incredible 2.6 umol/J and a light output of 1700 umol/s the Pro 1700 LED provides high-intensity full spectrum light over its entire 4′ x 4′ to 5′ x 5′ flowering footprint. The wide 8-bar form factor helps to provide even coverage across your canopy. This fixture is passively cooled and is built with high-quality Philips Advance LED Drivers for optimum performance.
Certifications
ETL, UL1598, IP66
The Spider Farmer SE7000 Commercial LED Grow Light is an impressive addition from an upcoming brand in the commercial LED grow light space. Not only is the light extremely efficient offering 2.75 umol/J, but comes standard with features that some other commercial LED grow lights do not offer on their the units. The Spider Farmer SE7000 is the only commercial LED grow light that offers a daisy chain feature with the ability to connect up to 15 units in a series. Another key feature is the ability to dim each unit in 5% increments. Spider Farmer in a new brand, but their LED grow lights are impressive. Look for our future review of their grow lights.
Certifications
ETL, UL, CE
One of the most powerful LED grow lights in its class with a standard PPF of 1870-1924 umol/m2/s for professional cultivators who demand ultimate light output. The ROI-E720 was engineered with greater dimensions to provide more versatility and better canopy coverage, especially to the outer edges of 4'x4' cultivation areas. The ROI-E720 is IP65 water-resistant rated, UL8800 certified, and Horti DLC certified for energy efficiency rebate eligibility. With unbeatable safety, reliability, savings, and performance, the ROI-E720 is unquestionably the right choice for cultivators who demand only the best.
Certifications
UL, Horti DLC
The Scynce LED Dragon Alpha just changed the rules of the game. Never before has a grower had so much control. No matter what style or strain, the Alpha can morph into exactly what's needed and deliver every time! A grow light is nothing more than a tool of the trade and should be able to be mastered and manipulated by the best growers to improve upon their garden.
Certifications
UL, CSA, CE, FCC, RoHS
Best LED Grow Lights for Grow Tents
Eliminate the biggest pain point when it comes to growing in a tent, eliminate the heat but still achieve respectable yields. These LED grow lights for grow tents will help you achieve great yields in your grow tent and keep your bills down at the same time.
The new HLG Scorpion RSPEC Commercial Indoor Horticulture LED grow light is designed to replace 1000 watt HID. Each HLG Scorpion uses 6 x QB 288 Quantum Boards for an even light spread at just 12″ from the canopy. The QB 288 uses Samsung's latest LM301H and Deep Red LED 660nm. This unit is dimmable, with wattage output from ~120 to 600 watts.
The Horticulture Lighting Group HLG 600 V2 R-Spec LED light will replace a 1000W HID while only drawing 600 watts at the wall and exuding the light output of 1,522 umol/s! Each HLG 600 V2 R-Spec lamp uses 4 custom-designed high-efficiency white light quantum boards. The HLG 600 Rspec features a slightly larger heatsink with a 600W driver which provides 18% more output for more coverage and bigger yields, compared to the HLG 550 Rspec.
An inspired collaboration between two of the most respected lighting companies in the horticulture industry. TSL Horti Tech and Grower's Choice have joined forces with years of innovative experience to create this high performance and cost-effective lighting solution for commercial and home horticulture.
Best-Selling Samsung LM301B LEDs- 2070 x Samsung LM301B and Osram 660nm LED chips. These chips are higher quality and more efficient than other LEDs. The past 3 years, Mars Hydro have been battling with Spider Farmer SF Led grow lights – all they have done is compete and put out amazing lights. Upgraded Full Spectrum White- The spectrum is beneficial for plants at all stages – from veg to bloom. Large Yield & Increased Crop Quality- Expect up to a 50% higher yield and higher quality compared with the old blurple lights and/or HPS lights. Turn an average yield up to 2.5 g/W. Up to 15 lights can be daisy-chained and controlled through just one light.
---
Best 4×4 LED Grow Lights
These grow lights are perfect for smaller 4×4 grow tents. Low wattage, minimal heat, and very little overhead space needed so your plants can thrive in a small space – best 4×4 LED grow lights. Check out the review and comparison of the best grow tents.
---
Best LED Grow Lights on Amazon
Despite getting a bad rap at times from the pot snobs around the web, these brands and their lights are not the LED Grow Lights best left alone…
If anything, MARS Hydro and Viparspectra have proven time and time again that they offer some of the best value LED grow lights on the market. Some of the best led grow lights on Amazon are listed below, however some may be missing or replaced temporarily.
MARS HYDRO Smart FC4800, Samsung LM301B 480W LED Grow Light…
UPGRADED APP-CONTROLLED: Mobile access to your FC4800 grow light on the Mars Hydro APP via WIFI. Easily control the grow lights and schedule your growth plans with your fingertips on your cellphone screen whenever and wherever you are. All data and settings are stored and transferred by the OTA (Over The Air) technology.
On Sale
Mars Hydro 2023 New TS 3000 450W LED Grow Light for Indoor…
2023 UPGRADED HIGHLY-REFLECTIVE HOOD LED LIGHT: The upgraded white reflector design on TS3000 grow light is patented, With a refraction angle of 120°, it can cover a wider reflector range to enhance its light intensity as well as assist plants in absorbing more light. The actual power of TS3000 is 450 watts, while other brand model 3000 is only 300 watts.
Horticulture Lighting Group HLG 100 V2 4000K 95W LED Quantum…
HIGHEST EFFICIENCY LED GROW LIGHTING: HLG 100 V2 uses our custom designed high efficiency white light quantum boards; With a total of 192 Samsung LM301H LEDs, this horticulture LED grow light produces 16,000+ lumens with just 95 watts of power
MAXSISUN PB4000 Pro Grow Light, 400W LED Grow Lights for…
Born for Harvest: The PB Pro Series is an upgraded commercial grade full-cycle horticulture lighting solution. With a handy remote control adjusting 0%-100% brightness to access the power to scale from vegetative growth to higher light intensities in flowering, it is designed for both individual and business indoor growers to seek higher yields of top-shelf quality.
VIPARSPECTRA 2023 Upgraded P2000 Led Grow Lights for Indoor…
NEW DIODE LAYOUT & DAISY CHAIN FUNCTION : VIPARSPECTRA Newest upgraded P2000 grow light with more scientifically diodes distribution to ensure the most uniform PAR map and the deepest canopy penetration to maximize plant yields. Daisy chain function allows you to connect up to 20pcs p2000 grow lights for your commercial growing, horizontal and vertical farming, greenhouse planting and hydroponics etc.
---
Since you're probably looking to buy an LED, you should make sure it's the right light for your grow room. We have an entire post on how to select grow lights that can help you compare different lighting technologies so you can choose the right one. Before we get started with our list of LED grow lights, we need to cover some basic information on this technology.
What are LED Grow Lights?
LED stands for light-emitting diodes. LED grow lights have come down in price significantly and home growers everywhere are starting to make the switch to solely using them as their lighting option.
These lighting systems produce extremely low heat, come ready to plug-and-play, and can produce high yields with incredible energy efficiency
HIDs require a reflector and ballast, LED grow lights do not. They can last for decades, whereas HID bulbs will often need to be replaced every couple of years. But, one of the main reasons LED grow lights are regarded as the best is
due to the spectrum they produce.
Types of LED grow lights
LED grow lights are available in different forms, so let's look at the pros and cons of each so you can find the right LED light for you:
LED Grow Light Panels
Panels are the most common type of LED grow light and most of our list will consist of LED panels.
They include heatsinks for removing heat, a driver (think of it as a ballast), and often come with a warranty.
When you think of LED grow lights, you are more than likely thinking of an LED panel, as these are the only type of LED really suitable for full state growth.
Pros:
Full spectrum with switches for both the vegetative and flowering stage – can be combined
Comes ready to plug right into a standard house outlet
Incredibly long lifespan – the bulbs typically last for decades.
Cons:
Most expensive type of LED grow light
LED Grow Light Bars
Many growers add LED bars as an easy way to expand their lighting footprint or change up their light spectrum. LED Bars are a single row of diodes that come in different spectrums.
You typically wouldn't use an LED bar to grow a plant from seed to harvest. Instead, think of these as supplemental lighting to a main light source (maybe HID).
Pros:
Can replace T5 fixtures for increased PAR and less energy consumption
Some units come plug-and-play and can work with a standard 120V house outlet
Cons:
Usually only one spectrum with no switching options
Can usually only be used for supplementing, and multiple bars will need to be purchased if using as sole light type
LED Grow Light Bulbs
An LED grow light bulb is exactly what it sounds like – a single LED bulb. Similar to LED bars, you wouldn't usually use one of these to grow plants through flower.
But, they can be a great way to grow small leafy greens or start plants with a full spectrum. You can quickly replace all old CFL bulbs with LED bulbs, which will give you all the added benefits of LED grow lights.
Pros:
Work in a standard light socket
Great for mixing and matching to create your preferred spectrum
Cons:
Multiple bulbs required
A reflective hood may be required
What makes the best LED grow lights?
The best LED grow lights all have a few things in common – uniform spectrum, light intensity, efficiency, high-quality components, and safety and reliability.
Spectrum
A proper, well constructed LED grow light will have a uniform spectrum. So if you have 4 plants under your light, they all get the same spectrum.
We've already touched on the spectrum a bit, but it's important to reiterate that the best spectrum consists of not just red and blue light, but also infrared (IR) and Ultraviolet (UV).
Full spectrum LEDs allow you to grow from seed to harvest with the same light, as opposed to having to replace bulbs or use different grow lights for veg and flower.
Is the spectrum constructed of single-wavelength 'mono' diodes, full-spectrum white diodes, COBs, or combinations of these? Do you prefer one over the other?
Spectrums constructed of targeted single-wavelength diodes are becoming less common since they are not as energetically efficient, have lower PPFD, lack canopy penetration, and plants can appear purple underneath them. This is more common with budget lights.
White light full-spectrums (white diodes or COBs) commonly range from 3000K to 4000K. 3000K is best for flower, 3500K is best for full-cycle, and 4000K is best for veg. Less common.
Enhanced white light spectrums (base of white light enhanced with UV, blue, red, and/or far-red diodes) are a good option since they provide all of the useful wavelengths that plants absorb and utilize. 3500K with added 660nm red is a popular spectrum. Increasingly common and ideal.
Is the spectrum sufficient for your plant's growth stage?
Increased blue = ideal for veg (4000K white light spectrum)
Increased red = ideal for flower (3000K or 3500K white light spectrum)
Does the fixture offer spectrum tuning between the growth and flower stage? While not entirely necessary, this can help save energy while delivering an ideal spectrum during veg and flower.
Light Intensity
The more light your LED actually gives off, the bigger your yields (for the most part). So, any high end led grow lights need to be incredibly powerful.
What is the PPF of the fixture? Is this a sufficient amount of light considering the wattage draw and efficacy?
~1700-2400 umol/s per 5'x5'+ area
~1300-1700 umol/s per 4'x4′ to 5'x5′ area
~600-1300 umol/s per 3'x3′ to 4'x4′ area
~300-600 umol/s per 2'x2′ to 3'x3′ area
Is there a PAR map available of the fixture? Are the PPFD readings sufficient for your stage of growing? How uniform are the readings across the footprint (spotlight vs even footprint)?
Can you calculate the average PPFD using the PAR chart? Average PPFD = Sum of PPFD readings/number of PPFD readings.
Is the average PPFD sufficient for your plant's stages of growth? Veg: 300-600 umol/m2/s, Flower: 600-1000 umol/m2/s or more.
Efficiency
In general, the best LED grow lights are very efficient. But, the best LED grow lights will maximize your efficiency. Most importantly, they operate at a high level, produce higher power, and maintain a low cost to run.
How many watts does the fixture draw from the wall? To determine this, view the fixture specifications. Be aware that the number in the title or name of the light likely doesn't represent actual wattage. It may be a model number, total LED wattage, or an HPS wattage equivalent.
When planning for cannabis grow space, think about a range of around 30-44 watts per square foot. Higher wattages are possible with more efficient fixtures, but note that light output is not necessarily proportional to wattage draw. Consider the total wattage draw of your entire grow system when making decisions about what kind of light fixtures to buy.
What is the receptacle voltage for your light?
Most home circuits in the USA are 120V. Some growers use 240V. Commercial growers typically use 240V or higher. Many other areas in the world (inc. Europe, UK, AU) use 240V. Ensure the light you select is rated for your voltage application. Most LED grow lights have a flexible driver rated from 110V-277V.
PAR Efficacy
What is the efficacy of the fixture in umol/j? This is the amount of light the fixture exudes per watt. If it is not reported, you can estimate using this equation: PPF/wattage draw. Does efficacy matter to you? If so, look for fixtures above ~2.4 umol/j (Fixtures are up to 2.8 to 2.9 umol/J in 2020). If not, at least know how much light (PPF or average PPFD) you are getting for the wattage being drawn from the wall by the fixture. Less expensive, budget lights, are typically very inefficient since they use inferior parts. Knowing the cost per photon ($/PPF) can help you decide which is the best light for your budget. Everyone wants the most light for their dollar, but it is not always attainable.
Quality Components
Given the cost of LED grow lights, they need to be seen as an investment. Obviously, your investment needs to last you a long time for it to show a return.
Therefore, the best LED grow lights are reliable and durable, standing the test of time.
All of the lights we will be listing are from the most reputable brands and include some sort of warranty. This will give you peace of mind when you purchase, knowing you are protected.
What brand of diodes does the fixture use?
Higher quality diodes last longer and are more efficient (more light/watt). CREE, Samsung, Osram, Lumiled, and Bridgelux are brands that are commonly used high-quality chips. Epistar and Epiled are mid to low-quality chips, in comparison. That is not to say that some high-end LED grow lights don't still use them successfully.
What brand of driver(s) power the best led grow lights? Mean Well and Inventronics make high-quality drivers but there are other good ones too. Low-quality drivers in most budget lights fail quickly.
Safety and Reliability
Do you require any particular certifications or markings (UL/ETL/CSA/CE, etc)? Most home growers do not need to consider these special certifications. However, commercial growers in the U.S. are required to equip their facilities with UL listed or ETL certified grow lights. Of course, that is if they are to comply with their state's electrical regulations. If you are in the European Union or Canada, you might require a fixture with a CE mark and a CSA mark, respectively.
How long is the average led grow light warranty?
LED grow light warranties can range from 1 year to a 'lifetime'. Most companies offer a 3-year warranty. however, 5-year warranties are also very common. Fixtures with longer warranties are generally more expensive. Know the manufacturer's warranty policy beforehand in case something happens to your fixture.
There you have it, Paramount's list of LED grow lights our preferred cannabis grow light type. Which LED will find its way into your grow room? We're certain that one or more of the led grow lights will fit perfectly in your room and bring you more affordable, high-quality yields for years to come. Still not sure which is right for you? Explore more LED grow lights.